It's back! Tripudio will be returning to the Customer Contact Expo (CCE), formerly the London Call Centre & Customer Management Expo, this year on 1st and 2nd October 2014 at London's Olympia exhibition centre.
Different name – Same show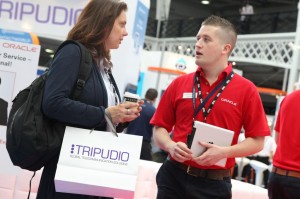 Previously known as Call Centre & Customer Management Expo, the Customer Contact Expo is the same event, at the same place, at the same time, but with a sleek new name that the organisers say: "better reflects the many dimensions of the people and the industry we represent".
The Customer Contact Expo brings together the entire call centre services and customer management industry under one large roof for two jam-packed days of networking prospects and sharing the industry's latest trends and best practices, with the potential to source new products and services.
With over 150 exhibitors, 5000+ visitors, 6 theatres filled with industry experts offering the latest industry advice, plus tons and tons of free goodies, CCE2014 is the place to be if you're researching and comparing the market for new call centre solutions or customer services consultancy.
What have Tripudio got to offer at Customer Contact Expo this year?
Last year, we received a lot of interest around our advanced call centre reporting platform which allows businesses to monitor their call centre performance, both in house and outsourced. This intelligent front-end system to provides live stats of call centre service levels with easy-to-understand live metrics. If you missed us last year, you can ask us about our advanced call center reporting system this year! Watch it again here:
This year, we will be adopting the same consultative approach and offer high-level business consultancy, underpinned by our complete range of telephony and call centre solutions covering: cloud based technology, global inbound telephony, business telephone numbers, call centre management services and more.
Our highly experienced team has a combined experience of over 110 years in international telephony, IT, call centre management, CRM and voice technology – spanning industry sectors including travel, IT, retail, maintenance break-fix and many other verticals. To out it simply – we know how to work with large organisations to effectively manage their customers' customer experience, often in international territories and in emotionally charged environments.
Meet and Tweet Tripudio #ccexpo14
The Tripudio team will be on stand G30, neatly located between the networking lounge and the workshop theatres. We look forward to seeing you at the show – remember to Tweet us @TripudioTelecom and the event organisers @callcentrefocus, along with the hash tag #ccexpo14.
By David Bell