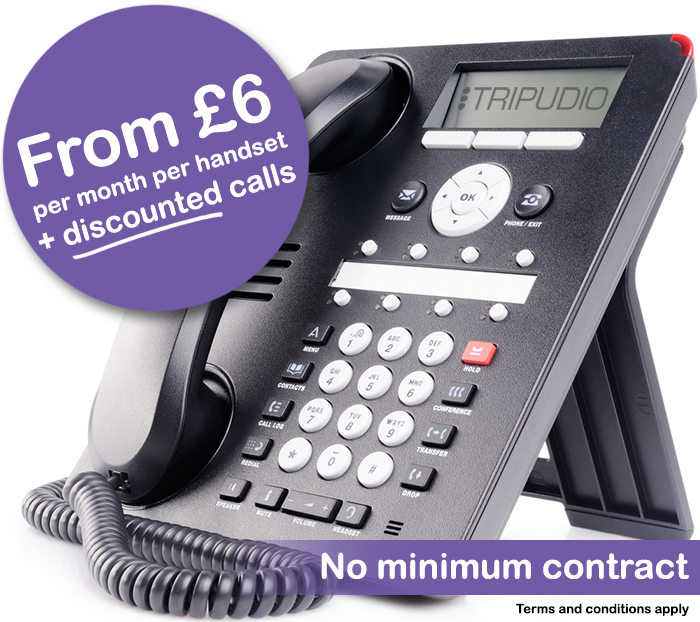 Flexible Business VoIP and IP Telecom Systems with No Minimum Contract
Tripudio's Hosted IP Telephony and Business VoIP System is a powerful, expandable and cost saving IP telephony solution for businesses. Our hosted IPT system is flexible to your requirements, Tripudio can provide you with anything between 5 or 5000+ pre-configured VoIP handsets, which are plugged in to your PC and connect to our powerful hosted system 'in the cloud' via a simple broadband connection. With Tripudio, you can enjoy the benefits of:
✓ No set-up fee ✓ Free install advice ✓ Discounted calling rates ✓ Free internal calls ✓ No minimum contract ✓ Managed via an online portal ✓ 24/7 support, 365 days per year ✓ Low cost capped handset rental from £6 per month.  Simply fill out the contact form below or email us for more info…
VoIP and Cloud Based IP Telecoms from Tripudio Telecom
It isn't uncommon for some call agents now work away from the office (or contact centre), including home-based agents, knowledge workers in business units and mobile users logging in on laptops, smartphones and tablets. As a result, companies have had to integrate additional systems – cloud-based hosted IP telephony.
Tripudio have already set-up, implemented and manage a range of cloud based IP telephone systems for various customers. As no two customers are alike, Tripudio can custom build dial plans, features and functions and also give customers the ability to modify their features via a user portal. IP phones can often become an extension of an ACD in times of emergency/high demand by changing the status of the phone.