Russell Phillips, Operations Director.
Russell has over 20 years in the IT and Airline industry, having previously worked at BA and also as a CIO at Mindpearl, the global airline centric call centre outsourcer. He has true hands-on experience of designing, running and managing complex call centre environments. He has deployed sophisticated ACDs, workforce management, back-office reporting systems and complex MPLS networks across USA, Europe, Australasia and South Africa. As an experienced Director level 'chooser-user', he is quickly able to appraise new technology and software to distil intrinsic value and operational robustness from marketing hype. As a qualified helicopter pilot, Russel has an active interest in all things aviation.
---

Jonathan Collard, Commercial Director.
Jonathan has over 25 years experience in IT & Telecoms, 16 of which working internationally in the Airline, Travel, Tourism & Hospitality sector. Having lived in USA, Switzerland & UK he has worked for several major technology companies such as IBM, Unisys, C&W and Orange, delivering global solutions that create tangible value. Having held several senior sales management and corporate governance roles he is a keen advocate of "always putting the customer first" and this mindset has been a major factor in Tripudio's successful delivery of many customer solutions. He has an active interest in motor sports but occasionally can be found participating in the less noisy pastimes of golf and fly-fishing.
---


Julian Harman, Director.
An accomplished and seasoned telecom professional with 20+ years experience. Julian has a wealth of international telecom expertise having initially worked for C&W and then MFS, rising to senior management roles, cumulating as General Manager, of their Japanese operations in the 1990's. Leaving to undertake various consulting roles involving interesting projects such as the deployment of carrier grade TDM switching and billing systems into EMEA and a major outsource & processing re-engineering for a British bank. Most recently, his international experience was further reinforced when working at Orange Business Systems, before joining Tripudio. Julian is a keen sportsman with active interest in paragliding, hang gliding and white water kayaking.
---
Sarah Grimwade, Marketing Manager.
Sarah has valuable international experience having lived and worked in Australia and USA. Speaking French and Spanish she graduated from Oglethorpe University, Atlanta with a BA in Media & Communication Sciences. With an eye for detail and creative flair she has honed her skills employed in various roles ranging from commercial radio to swimwear (Rip Curl) and banking (Credit Suisse). A keen tennis player, its best to not get caught in one of her cross-fire volleys or the wake of her mono-ski.
---
Robert White, Software Engineer.
Originally graduating from University with a degree in Politics, Robert has a natural gift for all things computer and technology based – we think he writes code in his sleep. As the companies operations support and programmer, Robert ensures the smooth-running of Tripudio's complex telephony network as well as designing and testing new and innovative systems to help the company continually expand its knowledge base to deliver highly effective telephony systems to clients. Unlike the rest of us fools, Rob doesn't particularly care for motor sports, paragliding or marathon running… so he's carrying out an MSc Masters' Degree in Computer Science instead.
---
David Bell, Digital Marketing Executive.
David has over 5 years experience in digital marketing and previously worked as an Online Marketing Assistant for one of Europe's leading Pro-Audio & Musical Instrument E-Commerce retailers. Having experience of working at a London based marketing agency specialising in Search Engine Optimisation and Social Media, David joins Tripudio as the company's Digital Marketing Executive – taking care of anything web, social or search. David is the voice of our Facebook, Twitter, Google+, Linkedin and YouTube profiles. David is a keen long distance runner, having completed two London Marathons, with a PB of 3 hours 20 – which raised over £10.000 for a local Hospice.
---
Craig Marston, Solution Consultant.
A seasoned professional with over 17 years in the industry covering all aspects of telecom solution design, sourcing and supply ranging from voice, data networking, encryption, video, cloud IP Telephony, ACD, IVR, PCI-DSS compliance, call recording and CSAT plus many other elements of solution delivery such as software, cabling and firewalls. Craig brings a level of inquisitiveness to project development rarely now seen. His "Irish Boy Band" looks belie his serious dedication to customers and enthusiasm to solve problems and deliver cost effective solutions.
---
Sara Brown, Operations Administrator.
Sara has over 22 years experience working within the Telecoms Industry, 20 years of which were spent working for the UK's largest IT Distributor. Sara has hands-on experience of 1st and 2nd line support for large telecoms companies, such as; Mitel, Avaya, Cisco IP and call centres and has worked on some considerably large projects across Europe and the UK. Sara is also the holder of an Approved DVLA Driving Instructor License of 7 years. Sara is a keen horse rider and has a ménage of animals to keep her busy, including horses, dogs, cats and Koi Carp!
---
Flemming Pedersen, Technical Support.
Flemming is a Danish national and is also fluent in Spanish and English. Flemming leads the Technical Support Team of Tripudio Spain in our offices in Barcelona. Flemming has over 15 years experience in IT and outsourced contact centres, having previously worked as a IT Coordinator at Mindpearl, a call centre outsource provider (BPO). As well as being multi-lingual, Flemming also speaks more computer programming languages than we care to mention!
---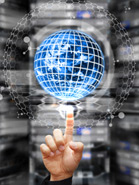 Network Operations Centre
Tripudio's Network Operations Centre is located in the UK. Our dedicated team monitor and provide first line support to our customers 24/7, 365 days a year. Using remote diagnostics & specialised tools they can respond to all operations outages on our core network infrastructure, as well as liaise with all our third-party partners around the globe, escalating any 'non-standard' issues to our senior operations team as needed. In extreme cases, and where diverse fail-over and network redundancy paths are unable to by-bass problems, our network operators are able to instruct local in-county PTT's and other licensed operators to send their own field engineers to respond to any to localised faults at a street level in order to restore service.