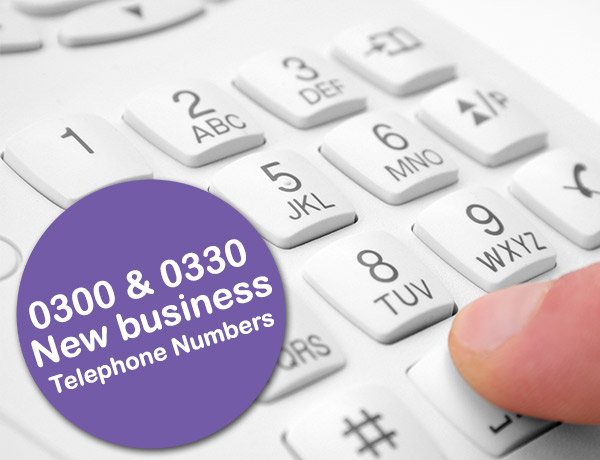 The '03' prefix is the latest national number range issued by UK Regulator, Oftcom. The 0300 range is assigned for public sector use only and the 0330 range is for normal commercial enterprises but both have same functionality and costs. 0300 and 0330 number ranges are popular as they present a low cost alternative to free phone 0800 numbers and still have the advantage of being 'memorable', as well as providing many advanced network management tools, for example; divert on busy or 'follow-me' functions, IVR messages and enquiry pre-selection.
These proxy numbers are excellent when you wish to consolidate calls into a single site or call centre at home or overseas, since the published telephone number doesn't directly correlate to a specific place or location; hence the term "non-geographic".

Buy 0330 Numbers Now
0300 Numbers Allow Customers to Call at the National Rate
From the consumers perspective, one of bigger advantages is that the 0300 range are included in peoples landline or mobile call plans and cost no more than the standard national rate call to an 01 or 02 number. Effectively this means they included in their "free" bundle of minutes and as such are a form of encouragement  to call. Naturally this is good for sales enquiries too!
Benefits of 0300 Phone Numbers
✓ Replaces 08 numbers to reduce call costs to the caller – your customers
✓ Government approved
✓ Retains your companies national presence
✓ Ability to manage where your calls are routed
✓ No need to change your original number
✓ Allows you to get a memorable number
✓ Call reporting
✓ Easy to set up
Free added features when you buy 0300 Numbers from Tripudio
When you buy an 0300 or 0330 telephone number from Tripudio, you can also benefit from a huge range of other features all self-manageable from an online client portal, including: managing your call routing path (ideal for remote workers), view your call logs, add, change or delete IVR voice messages and more.