We often preach about the value of one-to-one communication, i.e. the voice channel, when customers need to speak to an agent in a contact centre when enquiries are of an urgent or sensitive nature. We've even gone as far as saying "If your car broke down on the motorway, or your washing machine decided to go kaput; 100% of you would call for help via the telephone before turning to social media"… and right we are.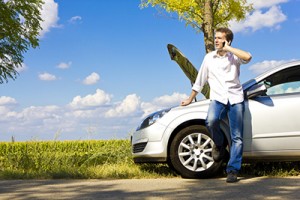 A friend of ours, Perry, Editor of contact-centres.com recently fell into a similar scenario whilst travelling abroad for a business meeting. Coming from a contact centre background, naturally Perry appreciates the true value of good customer support, let alone in times of urgency.
Perry had meetings booked Belgium and France and decided to drive via the Eurotunnel: passport, Euros, European breakdown cover all in hand. Dreadfully, a French driver collided with Perry's car in Dunkirk leaving Perry in a hazardous position.
Having opted for European Breakdown cover by the AA when booking the Eurotunnel crossing, Perry took out his mobile phone to call The AA to arrange recovery, but Vodafone had blocked access to outgoing calls whilst abroad. After persuading the French driver to allow him to borrow his mobile, Perry contacted a colleague to get Vodafone to call him. After some problems contacting Vodafone, the colleague in the UK was then told that Vodafone would not be able to help as the caller wasn't the account holder and nor did they have an option to call Perry, meanwhile stranded in France and unable to make outbound calls. Overall, bad support from Vodafone – a communications company!
As the car was left in a dangerous place, it was recovered by a French police nominated recovery company, so initially the AA European breakdown was not required, but when back in the UK Perry contacted The AA's contact centre who were excellent in handling the subsequent claim. Perry's insurance company, Swiftcover, like The AA, responded instantly once Perry was back in the UK.
Despite the mobile phone problems Perry faced, it goes without saying that human-to-human contact via the telephone is paramount when dealing with urgent issues, whether they are: breaking down on the motorway, losing your wallet or your flight being cancelled. Perry adds: "When in an emergency situation you need things to happen sooner rather than later".
By David Bell