Wizz Air, one of Central and Eastern Europe's largest airlines and valued Tripudio client today celebrate their 10 year anniversary. Wizz Air's first flight departed from Katowice, southern Poland to London Luton on May 19th 2004 with the objective of making air travel more affordable to the citizens of Central and Eastern Europe. Since then, Wizz Air carried more than 69 million passengers, across 300 routes, to 96 destinations in 35 countries.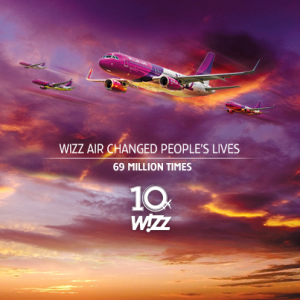 Wizz Air have employed Tripudio for 7 of their 10 years in operation to deliver reliable inbound call collection, as well as using Tripudio's flexible cloud platform to effectively migrate over to two new outsource call centre providers without interruption to their customer call service.
Wizz Air continues to build on their success by continually opening new routes into new markets, some which have historically been under-operated by low-cost carriers, such as last year's Eastern Expansion, which opened routes into United Arab Emirates, Azerbaijan, Turkey and Egypt.
Tripudio are proud to work with Wizz Air and value their goal to continually offer low fares and great customer service to their customers. We would like to thank all of the staff at Wizz Air for their cooperation and business over the years and look forward to a busy future ahead.
Tripudio's directors, Russell and Jonathan will be attending Wizz Air's 10 year anniversary party tonight. Who did they fly with? Wizz Air of course.
By David Bell