Tripudio are delighted to become sponsors of the European Call Centre & Customer Service Awards 2014, taking place just two weeks from now on 12th June 2014 at the Old Billingsgate in London.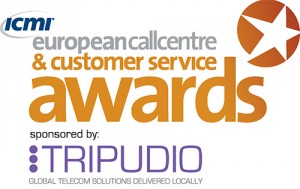 The European Call Centre & Customer Service Awards is a well-established event that rewards and acknowledges industry superiority across the UK and European contact centre and customer service industry. The event unites some of the industries' most influential forerunners for a night of award giving, networking, drinking and dancing with some all-star entertainment.
Modern consumers are more likely to choose a company or supplier that offers a superior and personalised customer experience via the call centre. The European Call Centre and Customer Service Awards highlights exceptional performance within contact centres and the customer service sector.
Tripudio are proud sponsors of the Application of Technology Award within the Innovation and Technology Category at the European Call Centre & Customer Service Awards. The award finalists are: Ukash, Leeds City Council, LV=, Pitney Bowes and TalkTalk Group.
Like each and every award finalist, Tripudio Telecom endeavour to exceed our clients' expectations by delivering innovative and effective telecommunications and call centre solutions based on the specific needs of the customer taking into account call centre languages and agent skill base against a desired budget.
Tripudio are well placed to advise on contact centre operational strategy. The majority of our clientele is made up of large international corporations using multi-site contact call centres with teams of hundreds of agents. Tripudio have proven experience in information technology strategy and service procurement, human resources training & compliance, technology audit & design calibration and contact centre recruitment.
Feel free to grab one of Tripudio's senior directors for a quick chat about how we can help your contact centre, or just say a friendly hello over a beer of two. We look forward to seeing you there.
By David Bell