Tripudio recently exhibited at the Internet Retailing Expo 2014 (IRX14) at the NEC Arena in Birmingham on 26th and 27th March 2014. The event is aimed at bringing together professionals from the retail industry, illustrating new and innovative solutions to enhance the customer experience through the seamless connectivity of multichannel strategies.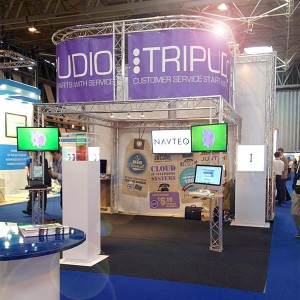 Showcasing our range of telecommunication services with our brand new exhibition stand, Tripudio presented a comprehensive range of telecoms solutions to companies who wanted to better manage their inbound telephony and seeking an alternative cost-saving telephone systems. The Tripudio team found that IRX was a great opportunity to engage with potential prospects; we even saw a few familiar faces as we bumped into some of our existing retail customers.
Why talk to Tripudio?
By speaking with Tripudio, retailers were able to gain the knowledge required to help optimise their business in the multichannel marketplace. We discovered that the majority of attending visitors had real business needs and were willing to spend time discussing their particular requirements. Tripudio could therefore fully demonstrate how their company would benefit from using the services that we provide, irrespective of whether they were a sole trader, small enterprise or a larger, more established multimillion etailer.
Overall the event was a great success and we had a productive couple of days. The Tripudio team would like to say a massive thank you to all those who visited the stand, it was great to receive such positive feedback. If you or your company would like to learn more about the product and services that Tripudio can offer simply call us on 0330 088 2624 or email us at [email protected]. Remember to check out some photos of the show on our Facebook album.
By David Bell