Tripudio are excited to announce the launch of their new and improved website, featuring all new 'self-service' numbers pages, which allow you, business owners to select, configure and purchase local and international business telephone numbers online, in three simple steps.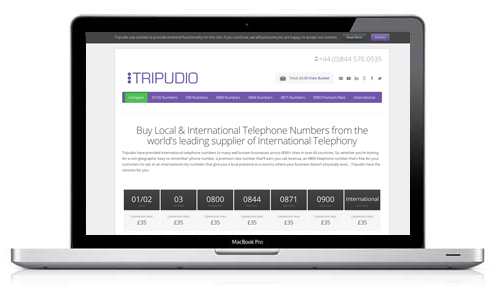 Our new 'buy numbers' menu features eight individual numbers pages; 01/02 Numbers, 030 Numbers, 0800 Numbers, 0844 Numbers, 0871 Numbers, 0900 Premium Rate and International Numbers. Our useful 'compare' page will make selecting the perfect phone number for your business super easy.
Whether you're a sole trader, small enterprise or perhaps a larger, more established multimillion retailer; Tripudio can find a solution for you.
Have you ever wanted to give the impression that your business works on a national scale?
Using a 'local' 01 or 02 telephone number isn't necessarily a bad thing. It is commonly recognised that some customers feel more comfortable buying locally, but on the other hand, appealing to a wider audience can be important too. Operating under a local number instantly defines you as a local business, so if you're running a UK national or even international business, you may wish to use a non-geographic 0330 telephone number, or chose a sequence of 'virtual' local rate numbers to give the impression of operating in various towns/cities in the UK or abroad, without having a physical presence there.
Go 0330?
0330 numbers are a popular choice amongst many businesses right now since new regulations state that, 08xx numbers can no longer be used for after sales support/ customer service lines after July 2014. Like local 01/02 numbers, 03 numbers are included in most landline and mobile call packages, so the caller is not going to be charged extra, unlike 08xx numbers. 0330 numbers are also mobile friendly: Most mobile phone operators will charge extra for calling 08xx numbers and it may be useful to know that over 50% of all call traffic is from mobile phones.
Why Buy Local & International Telephone Numbers from Tripudio?
Tripudio are a leading supplier of local and international telephone numbers and have installed numbers for a wide range of business and organisations, including many well-known household names. Our self-service website now makes ordering, routing and managing business phone numbers a breeze. Furthermore, when you purchase a telephone number from Tripudio, you benefit from a huge range of features including; maintaining your call routing and view your call logs – all self-manageable from a secure online client portal.
By David Bell

Click here to compare our range of Local & International Numbers