0800 numbers, often referred to as 'Toll-Free' or 'Freephone' numbers – are proven to increase customer contact levels by approximately 30% to 50% when compared to normal telephone numbers. As inferred by their name, the caller doesn't pay for the cost of the phone call, thus adding an incentive for potential customers to contact your business
Tripudio Telecom has years of experience in providing 0800 business numbers to many well-known clients across a broad range of industry sectors including travel, medical service, banking and retail. Tripudio supply 0800 numbers to large corporations, SMEs and even individual sole-traders. As such we can help you find the perfect Freephone solution tailored to your requirements in any country you wish!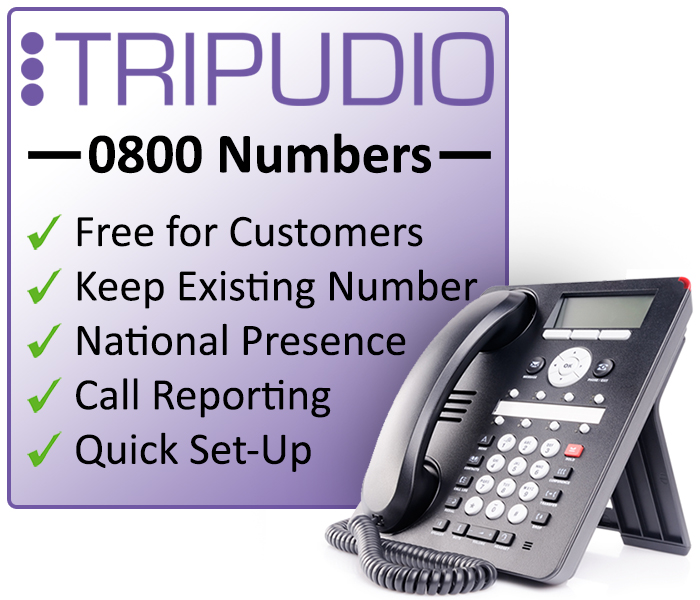 Setting up 0800 Numbers
Implementing new 0800 numbers is really quick and easy as they are used in conjunction with your existing number and can be directed to a landline or mobile telephone number that suits you; no new equipment, telephone lines or special contracts are needed.
0800 numbers, are like other 'non-geographic numbers', such as 0843, 0844 & 0845 in that they can act as a powerful business marketing tool – but they have the added benefit of being free for customers to call from a landline. Potential customers are far more likely to call if they know the phone call is free. The cost of the telephone call is billed to you, the business owner, so talk to Tripudio about choosing a Toll-Free number that's right for you.
0800 Number Features
Tripudio's 0800 numbers also come with a range of features that further enhance the professional appearance of your business, including a fully manageable IVR, welcome messages, divert-on-busy features (call forwarding; ideal for remote workers that don't wish to miss any calls when they are away from their offices), call queuing, call recording and more – all self-controllable via an online client portal.
Need more help with 0800 numbers? Contact the Tripudio team for more information, or if you're ready to buy, visit our self service numbers page and purchase your 0800 number today!