Voyzant are a market leading Canadian travel bureaux specialising in airline consolidation primarily in the B2B space. Voyzant's business model is set around three key principles: Seamless Booking Of Unlimited Travel Options, including the choice of over 100 Airline partners, at the lowest prices and the with best customer support.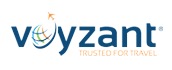 Voyzant needed a replacement for an ageing PBX system and they also required more ACD functions to allow them to automatically distribute incoming calls to a specific group agents based on customer need, type, and agent skill set.
Working within the travel and hospitality sector, particularly aviation isn't new to Tripudio, having already built long lasting relationships spanning over eight years with some of the world's largest airlines, including: easyJet, American Airlines, Wizzair, Germanwings and more. Needless to say, Tripudio know a thing or two about the voice channel within this area and were well fitted to advise.

Voyzant sought the help of Tripudio and opted for a cloud based solution to connect their Canadian Offices to a 3rd party call centre located in India. Tripudio were able to provide a test environment to demonstrate quality of speech, load balancing inbound calls between its Canadian staff and those offshore in India. The test area played an important role in Voyzant's decision making as call quality is paramount to their key business model of proving unparalleled customer support.
Custom Built Solution
Tripudio's single source solution was custom build around local Canadian telecom services, IP Telephony for back office staff and IP ACD functions for agents in Canada and India. Tripudio pride themselves on their professional engagement approach and on-going commitment to go out of their way to to quickly deliver and with a contract secured, Tripudio look forward to working with Voyzant for a the future ahead.