Monday 2nd September 2013 saw two of the biggest deals in history, both in the corporate world and in the sport of Football.
Vodafone stated its plans to sell its 45% state in Verizon Wireless (originally set up as a joint venture with Vodafone in 2000) to Verizon Communications for £85 billion, yes BILLION and in a completely un-related matter, English footballer, Gareth Bale signs a contract with Real Madrid for 100 million Euros (£85.3 million), becoming the most expensive signing of all time. Two truly incredible transactions with values the size of telephone numbers, but what does this mean for the us; the consumer and the telephony market?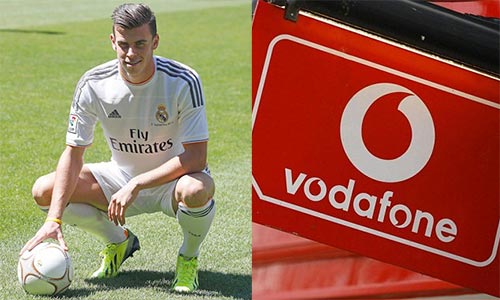 Well, Vodafone are set to invest money in its own business with plans to complete its 4G coverage by 2017, lets face it, only to play catch up with rival networks EE and O2 who have already planned the launch of their 4G mobile service.
So, new technology already offered by a range of mobile phone networks… no massively incredible news there then. On the financial side of things, shares in Vodafone rose 3.4% during the day and the shareholders get a low awaited return on their investment as very little dividend was paid during the ten year on/off relationship between the two companies. Vodafone shareholders are anticipation and £40bn payout when the sale is completed.
Now, people are utterly gobsmacked with the value of Gareth Bale's transfer from Tottenham Hotspur to Real Madrid, bagging him a deal worth £300,000 a week. How will this affect you, the football fan? Either "not at all" or negatively – over inflated season ticket prices and predictably a rise in the cost of your Sky Sports TV subscription. There, we said it! Having said that, the UEFA Champion's League tournament is going to be a corker this year.
Maybe the real slant is that if you are a Vodafone user, have a pension invested in Vodafone shares and happen to be Spanish living in the UK and Madrid, then you could be on the receiving end of some real benefits. However, for the average person on the street, you'll see Vodafone investing in increasing the reach of their wireless network, especially in rural areas. And yes, you'll see the company returning to its UK roots and looking after us UK customers who helped them become what they are now.
By David Bell