Gear4music was launched in 2003 and has become one of the largest online retailers of musical instruments and equipment in the UK. 2012 saw the launch of Gear4music.com's 19 translated webpages languages in their key European markets, making them one of the fastest growing music retailers in Europe.

Scope of Requirements
Formerly, Gear4music's translated web pages displayed their UK telephone number. Displaying a UK 'phone number with a +44' extension will discourage international customers from calling because consumers know that dialling internationally it is more expensive than an equivalent call to a domestic supplier. Also, it is commonly recognised that people are more comfortable buying 'locally'.
---
Why Chose Tripudio?
Tripudio are well placed to advise on international telephony as we have proven experience on predicting customers behavioral output combined with significant track record in deploying projects on a global scale. By unifying the combination of local language web content and local customer access, Gear4music were able to capitalise upon 'suppressed' consumer demand across its complete sales operation i.e. many consumers are fearful of calling 'foreign' numbers and prefer to deal with 'local' entities.
Tripudio provided one local rate telephone number for each of Gear4music's EU territories as well as a new UK 0330 number for post-sales customer support.
Solution Provided
Tripudio provided one local rate telephone number for each of Gear4music's EU territories. This number will be charged at the callers' standard national rate, or 'free' for those calls that are included as part of a consumer's landline or mobile call plan.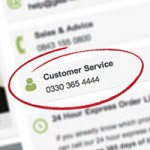 Furthermore, to conform with forthcoming governmental regulatory changes (in effect June 2014), Gear4music had to stop using their non-geographic 0843 telephone number for post sales customer support and switch to an approved 0330 number for all post sales enquires. Tripudio supplied Gear4music with a platinum 'easy to remember' telephone number; 0333 365 4444. Existing customers chasing the status of their order, arranging returns or for technical support can now call at their standard local rate.