easyJet Holidays are a rapidly expanding online Travel Agent who advertise through diverse media including online, print and TV. They also provide 'imprint' services acting as an outsourced call centre selling on behalf of others.

Scope of Requirements
With multiple direct and indirect sales & marketing channels, this online retailer needed to know which client had responded to what particular advert, press release or mail-shot. The ability to distinguish service enquires from B2B and B2C consumers and prioritise inbound callers was paramount.
Tripudio provided a cost-effective series of telephone numbers to enable easyJet Holidays to track the success rate of a range of marketing campaigns via inbound calls.
Solution Provided
A cost-effective and secure series of telephone numbers that can collect calls originating from multiple sales channels and segregate them based upon pre-designed selection criteria were all provided under a single source / single operations domain. On-line tools enable key staff to see what is happening in near real time.
---
Financial Benefits
The use of low cost numbers the enabled tracking of different marketing campaigns easily, quickly and cost effectively.
---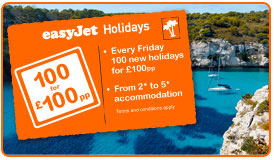 Consumer Benefits
easyJet Holidays' customers are better serviced as the call centre agent doesn't have to needlessly ask for customer references, order numbers or repeatedly get the caller to validate whom they are. The call centre operative knows exactly where the call has originated from.