On Saturday 21st June Tripudio helped local school, Salesian College, by sponsoring the Top Gear 'Hot Shots' race car simulation at their annual summer fete.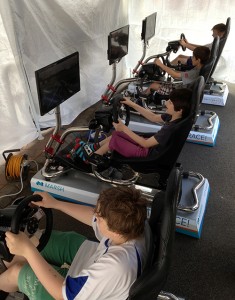 Every year the Parent Teacher Association organise the summer fete in order to raise funds for good causes including the finance of charity works in Africa. As part of this, Tripudio provided a driving simulator that tested the students' talents against two laps of the famous Castle Donington F1 Race Track.
Even though The Stig didn't turn up, advanced driving skills were still in attendance: The best time set by a student being 2 minutes 6 seconds and by a parent of 1:58, which both compared very favorably against the lap record of 1:48 as set by a professional driver!
Overall the day was a complete success and we were thoroughly impressed by some of the students' racecar driving ability. Watch out, Hamilton!
Check out some of the photos from the event via Tripudio's Facebook page
By David Bell